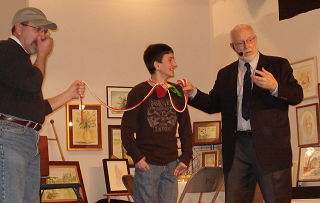 If you're looking for the best fun, original, entertaining magician in the Omaha/Council Bluffs metropolitan area,
then look no further.

Larry has been making people laugh for over 40 years in the Omaha area. Some laugh with him, some laugh at him...but they do laugh.
At one point in his admittedly shady past, he even performed magic for a living throughout Iowa and Nebraska.
He specializes in sleight of hand using small objects and clever fingers to perform his magic. He's appeared on TV, countless banquets, assemblies, parties, and even on the radio. (Don't even try to figure out what a magician does on the radio. It's painful!)