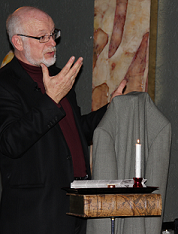 His stage shows are quick paced and funny, and have been seen primarily in Omaha and Council Bluffs, with side jaunts into just about every state in the Union

The show lasts approximately 30 to 45 minutes, is full of exciting magic, and 40 to 60% of the act is done with volunteers from the audience. Laughs are guaranteed.
His shows vary depending on the audience, and can even be "themed" upon request. Larry in the past 30 years has performed for countless Omaha businesses, groups, and functions.
Children's shows, such as assembly programs, are much more colorful and have more physical humor while his adult shows rely on a more verbal approach.
Larry has appeared in 1000's of venues doing his magic in Omaha and Council Bluffs in every imaginable circumstance, from full stage shows to working crammed between industrial machinery.